FEATURED STORY: Alexis Bierman
PHOTOGRAPHED & INTERVIEWED
BY NICOLLETTE MOLLET
I had the opportunity to photograph Alexis Bierman's high school senior portraits back in early 2014. Two years later, she came back for a spontaneous photo shoot and she's just as beautiful and bubbly as ever. However, these are not her actual college senior portraits, and plans to schedule a third portrait session when she approaches her senior year of college. For an impromptu, pre-senior portrait session, how cool is this girls' style and personality?!
"I LOVE LOVE LOVE FASHION AND WRITING AND ABSOLUTELY ADORE EVERYTHING THAT NEW YORK HAS TO OFFER."
N: Hey girl! So I just want to start off by saying how much I appreciated having you back! I can't believe it's almost time for you to graduate college when it feels like it was just yesterday that I was shooting your high school senior portraits. It was also just fun to hang out again, I think you're such a delightful person and not to mention, gorgeous!
A: I know, crazy right? Everyone said college flies by, and I can definitely say from experience that it sooo does. But honestly I don't mind because it just means I get to have pictures taken by you! I'm already planning out how I want my college senior pictures to look haha!!
N: Aww, you're the best! I can't wait, I'm so looking forward to it. So I already know a bit about you, but could you tell me a little about yourself for the readers?
: Of course!
N: Great! Where are you going to school, what is your major/passion and what are your plans after you gradate?
: I'm a junior Journalism major at Texas Christian University and have big plans to move to New York City, immediately after I graduate, to pursue a career working as a magazine editor. I love love love fashion and writing and absolutely adore everything that New York has to offer. Sounds crazy right now, but catch me in five years and I'll totally be walking the streets of New York like I own the place, hahaha!
N: That's so awesome. I love that you have set a goal for yourself, and I know you won't have any problem accomplishing it! New York is such a fun place to be, and is the perfect place to strive in the fashion journalism industry. Girl, you gon' have to let me come visit you! GASP! Maybe we can even collaborate in the future, who knows *wink*.
"PLUS, I'M LIKE, 'WHAT BETTER TIME TO LIVE IN EUROPE FOR FIVE MONTHS THAN WHEN I'M 20?'"
A: Umm yes, I would absolutely love that! You're welcome to stay in my 9x12 studio whenever you'd like! *crying/laughing face.*
N: Hahaha, well, you'll probably have to do some good Pinterest-ing and find ways to make your small space super chic, which is fun. This is always kind of a tough question, but what inspires you?
A: I'd say traveling inspires me... There is absolutely nothing I love more than to see a new place and to just soak everything up that the culture has to offer. I'm actually studying abroad to Rome for a semester in the spring, and it's honestly all I can think about. Plus, I'm like, 'what better time to live in Europe for five months than when I'm 20 years old?'
"I LOVE SEEING EVERYONE'S OWN INDIVIDUAL STYLE AND THINK IT SAYS SO MUCH ABOUT A PERSON BY WHAT THEY WEAR."
N: Yes, traveling also inspires me! It's so interesting how cultures view the world so differently than others. Also, congratulations on studying in Rome, that's going to be an amazing experience! I'm super jealous in the best way possible and very proud of you. Okay, here is a random philosophical question, and one I love. What makes something or someone beautiful?
A: I'm sure there are a million different answers I could give you, but at the end of the day, the answer is to be NICE. That quote how nice girls are the prettiest is so true to me. I just know how I feel when someone is nice to me, so why wouldn't I want to pass that on to the next person? I know I'm going to sound ancient when I say this, but I feel like there is so much bad in the world, the least I can do is be nice to someone. I don't know, in my eyes, I don't care how pretty or successful you are, if you aren't nice, you are the ugliest person to me. Harsh, right?! But seriously, I don't care how beautiful you are, who wants to be around someone who is rude?
N: Words spoken from a truly wise woman! And that's also what I believe, well said. True beauty comes from within, as cheesy as that sounds. Fashion photography has always been a passion of mine, and although I love it, it has taught me a lot about true beauty as well. The modeling industry has honestly put a lot of pressure on girls to be sexy or beautiful on the outside, but there is nothing sexier than brains and kindness. Knowing this has made it so easy for me to not only have confidence within myself, but bring that inside beauty out of seniors in a way that they've never seen themselves before. So fun! What do you love about fashion? Where are your favorite places to shop?
A: What's NOT to love about fashion!?! I love seeing everyone's own individual style and think it says so much about a person by what they wear. Obviously we would all love to have an unlimited bank account, but I love that you can literally shop at a thrift shop and still look fabulous! I mean let's be honest, some of my favorite pieces are from Target! But as far as shopping, I'm obsessed with Zara. The closest one is an hour away and I strategically make that drive like twice a month because it's that good… I also love Nordstrom, H&M, Nasty Gal, Revolve, and Asos!
N: Ugh, I LOVE Target. Ugh, and Zara! And Nordstrom, H&M, Nast–Okay, sweet, we love the same things. Do you prefer flats or heels?
A: Flats! I'm so taking advantage of the sneaker trend going on right now, and praying that it never goes away!
N: Haha yeah I've actually encouraged that look on a lot of seniors lately! Who is your role model?
A: My role model is definitely my mom! It's funny you asked though because when I was in middle school, I used to be obsessed with America's Next Top Model, so I always said that Tyra Banks was my role model. I would always finish that show so inspired, haha. So, in school, whenever we were asked that question and everyone was like "my mom is my role model!" I'd whip out the "Tyra Banks is my role model!" and everyone was always so confused why this 12-year-old is so inspired by her!
N: Haha, reminds me a lot about myself, that show is one of my initial inspirations for pursuing fashion photography! That's great, your mom is lovely. Okay... here's another tough one but it's fun to think about. If you could travel back into time and talk to yourself when you were younger as you are now, what age would you visit and what would you tell yourself?
A: I would go to any age in my teen years and tell myself to put my phone down! Even now I could still apply that, but sometimes I'll look back and think of times I spent with people who have now passed away or who I don't see anymore. It's disappointing that I spent a lot of wasted time on my phone instead of with them. I now actually do this thing where I won't get on any social media Monday through Friday, and I notice a world of difference when I do that. Once I start scrolling through instagram, I'm like "OK Alexis no, there is more to life than looking at a phone screen."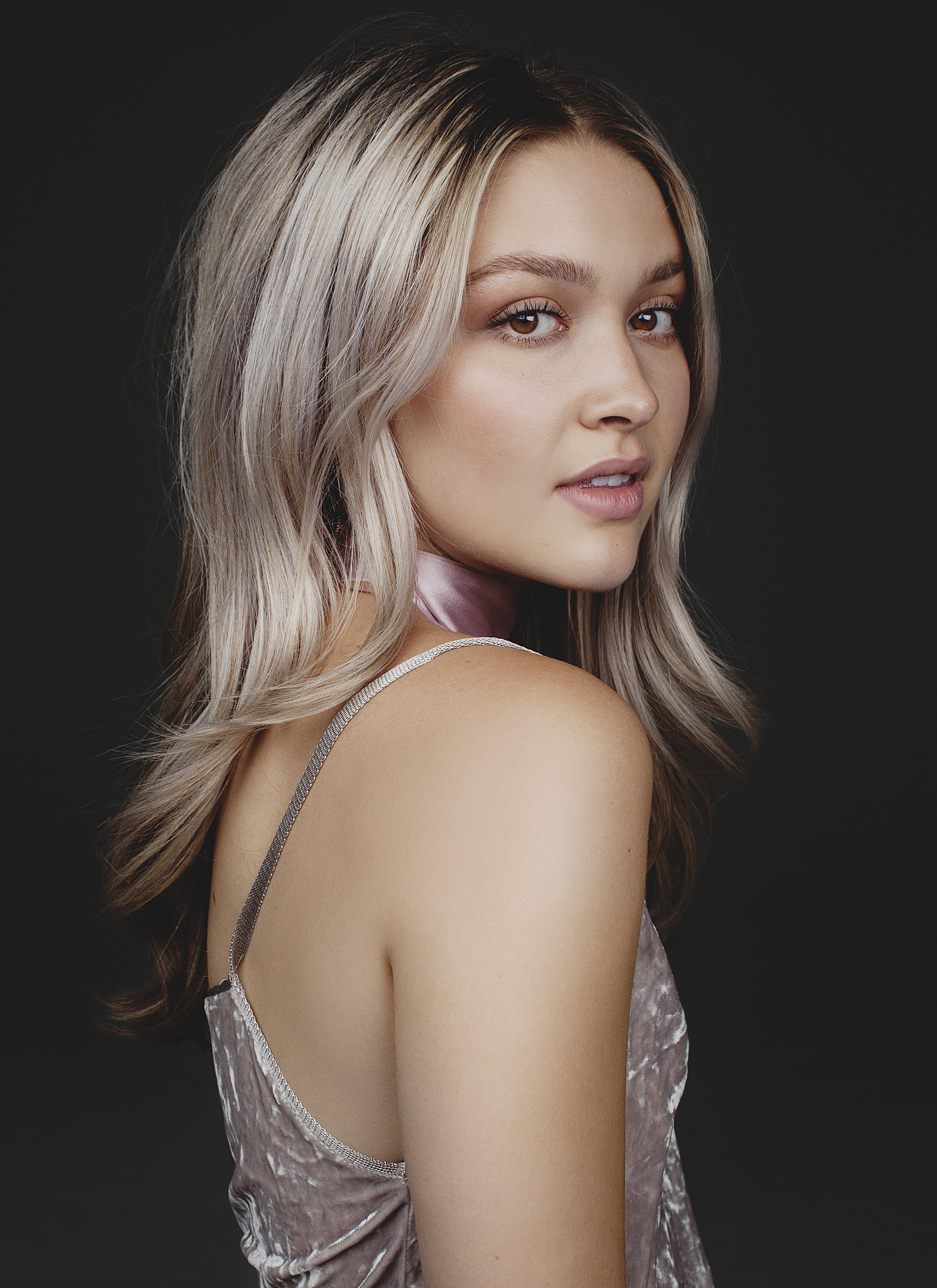 "I WOULD GO TO ANY AGE IN MY TEEN YEARS AND TELL MYSELF TO PUT THE PHONE DOWN"
N: Love that. That's such an important message. It's hard to ignore the fact that the world is growing digital but in the end we have to remember that it is merely a material possession and can't fulfill true happiness like love and human connection can. My next question was going to be "If you could give any advice to other high school seniors, what would it be?" But "putting the phone down" is great advice! lol, is there anything else you'd advise?
A: I would really just emphasize that there is so much more to life than high school! Like, umm, hello! Who doesn't want to be the most popular girl? After four years, I promise you, nobody cares… Like at all. You just have to realize that there are so many bigger and better things to come, so ignore the mean people and just have fun with your friends!
N: Great answer. What's your favorite musician/band? Or maybe an easier question is, what genre do you prefer?
A: It really depends on what mood I'm feeling. I love super chill music, so definitley "Oh Wonder" and "Bon Iver." Also, I'm not even going to lie, Justin Bieber has great stuff…
N: Haha, I tend to sing along with some JB in the car from time to time, I ain't ashamed to admit it.
N: Would you rather be born with an elephant trunk or a giraffe neck?
A: Where do you come up with this?! Haha, I'd have to say an elephant trunk… I feel like I could make that work?
N: Haha! I think you could make anything work! Well, If you could be any type of animal, what would it be?
A: Probably a golden retriever? I feel like with those dogs you just can't not love them. They're such sweeties and cute too, plus I'm so not opposed to being called cute on a daily basis
N: Haha aw, so true. Well, Alexis, thank you so so much for allowing me to interview you today! I cannot wait to schedule our next shoot, and I look forward to witnessing all of your future accomplishments. I think you are definitely a role model in yourself and someone a lot of girls can look up to. Lastly, do you have a blog, website, or social media you'd like us to follow you on?
A: Seriously anytime, I live for this stuff! And for sure! I'm in the process of working on a blog, but in the mean time you can always follow me @alexis_bierman !
N: Perfect, well please be sure to advertise that blog on your instagram when it goes live! Can't wait to see it! ♥